What Causes Elder Depression?

Understanding Senior Depression
Gretchen Heuring | ElderThink | 02.06.11
Let's take a look at basic human needs to see what might be missing that could cause depression. Then the path to helping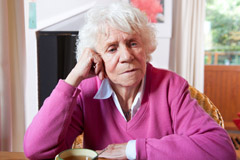 your sad older person will be more clear.
Depression in older people can be disabling for them and they truly can't help themselves. The most difficult symptoms are self-centeredness, and inability to make decisions.
Physical Sources of Depression
"This old body is full of aches and pains," we hear this often as our older people move slowly or not at all. Researchers tell us that depression makes all sorts of pain worse.
Of course these days we know that movement is the best thing for anyone. Exercise will definitely relieve depression. Along with exercise, the body needs balanced, nutritious meals and adequate uninterrupted sleep. So how do we coax that stubborn old person to exercise and eat her lettuce? Let's look carefully at the rest of the problems first.
Safety and Security
Fear of falling is a big problem for older people who are not physically fit. There may have been a fall, or an almost-fall and now stairs, steps and bathtubs are scary. Of course physical strength through exercise could make a big difference but there is more.
Depression causes other forms of fearfulness. A depressed older person often worries about unexpected and dangerous events. So a predictable orderly world is most comfortable. That spot on the sofa with regular television programs is a source of security.
Love and Belonging
Our older person is isolating herself and so doesn't foster needed relationships. Besides that, elder-depression causes feelings of being a burden to others. She may actually say, "I don't want to spread my doom and gloom." She can't see out of her sadness and stubbornly refuses to participate. So there is little opportunity to receive the love and affection she so desperately needs.
Self Esteem
Depressed people often can't say anything good about themselves or recall anything they enjoy. They may have experienced rich full lives with accomplishments, family and friends but their depression forms a barrier to the esteem they deserve to experience. They actually abandon the strong vital part of themselves and feel, in their hearts, that they are worthless. This feeds their desire for isolation.
Self-actualization
Self-actualization is actually the highest form of ourselves. It means that we are able to express ourselves with comfort and creativity. We eagerly and openly share our persons with others. This is the place where we should find ourselves in old age, bringing us a sense of peace and wholeness.
Clearly, the self-actualized state is free of depression.