Mental Health
Mental Exercise
Gretchen Heuring | ElderThink | 01.12.10
Researchers have confirmed that your brain loses capacity without exercise just like muscles do. Mental stimulation is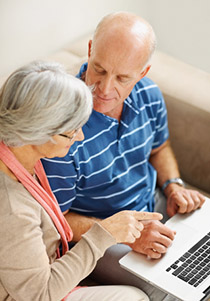 important to seniors and this can include games and puzzles, reading something that is hard to understand and thinking it through, or taking a class.
Computer Games
Computer games can be stimulating, especially when they involve finding things or solving problems. Some of the following recommendations are games made for children but they are every bit as much fun for adults. There are many available you only have to know if you have a PC or a Macintosh. If it doesn't have an apple on it, then it's surely a PC.
Little Shop of Treasures is a delight. You have to find hidden items that are right in plain sight. You get good at it in no time too
There are jigsaw games you can work right on your computer screen. No more lost pieces!
If you feel adventurous, then you might really like Dream Chronicles where you find keys and clues to help you. Pretty scenery too.
Old Fashioned Puzzle Games
Dell has been publishing puzzle books and magazines since 1931. These are excellent tools to keep your mind active and a subscription is inexpensive.
Learn New Things
Learning new things keeps the mind active too. Sign up to take a class through your senior center or nearby college or university. Many colleges have auditing programs for seniors and you can take a class for a very modest fee.
Learn more about your computer and how to use it better. Senior Net is a nationwide program designed to educate seniors on computer use. Classes are usually at nearby Senior Centers or Junior Colleges.
Test Yourself
Queendom offers just about every sort of mental test for you to take yourself. The site provides a simple score for free but if you want more detail about yourself, you have to pay a little.