The Love Of A Pet

Senior Pet Owners Live Better and Longer
Gretchen Heuring | ElderThink | 8.19.10
Thirty years ago, researchers discovered that pets are good for older people (and sick people too.) Today, we can find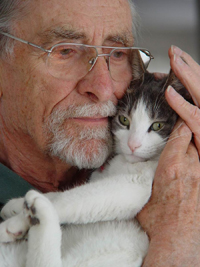 beloved kitties and pups in just about every assisted living or nursing care facility. Volunteers take pets for hospital visits, and doctors even prescribe pets for recovering patients.
Those early researchers found some astonishing facts. For example in 1980 physicians from the University of Maryland Hospital and Medical school reported that they studied groups of patients discharged after a heart attack. The first group of patients had NO pet at home and 28% died. A second group did have a pet at home and only 6% died.* There were other studies conducted elsewhere with similar results. People with pets do better recovering from serious illness or injury. More than that, people with pets do better at managing chronic conditions, are better at maintaining social relationships (with humans,) and move through loss and grief with more ease.
Do Pets Actually Reduce Their Human's Blood Pressure?
Current research in the US, Europe and Australia suggests that people who own pets have lower blood pressure than people who do not own pets. So far, this new research is inconclusive but many of us have experienced the times when these amazing animals know we need them and they have a calming effect on us.
*Animal Companions and On-Year Survival of Patients from a Coronary Care Unit
Erika Friedmann, Aaron Honori Katcher, James J. Lynch, Sue Ann Thomas