On-Line Tests for Memory

Memory Tests You Can Take Right Now
Gretchen Heuring | ElderThink | 01.28.11
Here are a few memory tests that have been developed by researchers at established Universities and research centers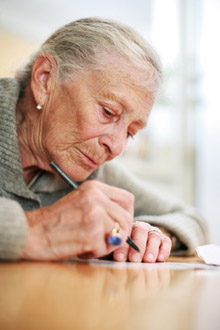 (Harvard, for example) The tests are free but they all need a bit of information from you. Usually they just want your name and an email. Everything is kept confidential so their work won't be tarnished. If you think something is wrong with yourself or a loved one, these tests will give you a chance to find out.
Think You Can't Remember Faces?
Face blindness, or "prosopagnosia," is often accompanied by other kinds of recognition problems. Everyone has trouble remembering faces sometimes but people with prosopagnosia can't recognize people they are with often like spouses or children.
Researchers at Harvard, Cambridge and University College in London have developed an online test for face blindness. To take the test you will have to allow them to use the results in their research and you will be anonymous. Otherwise, it's free. I took it and discovered that I recognize faces better than I thought I did. Cambridge Face Memory Test
How Is Your Short-Term Memory Really?
A research group at Harvard invites anyone to test their short-term memory by taking an on-line test. They use the results for research but who you are is kept confidential. The test is fun and it feels right to help researchers. Keeping Things In Mind
Dr. Oz has a memory quiz on his site that was developed by the Department of Veterans Affairs. Dr. Oz Memory Test
How Fast Do You Think?
Here's an online test that measures the speed of your brain. You are asked to register to take the test. Memory Speed Test
Fostein Mini-Mental State Exam
This quick exam tests your state of being. It's best to have someone else give it to you, but you can do it yourself. You will know if there's a problem. You can find a copy at PAR.